Nibbs Coffee Company
Regular price
Sale price
$17.00 USD
Unit price
per
Sale
Sold out
Roast: Medium 
Tastes: Milk Chocolate, Caramel, Orange
Location: Sacatepéquez department
Variety: Bourbon, dwarf Bourbon, red caturra, yellow caturra, catimor hybrids
Process: Fully washed
Elevation: 1500-1650 masl
Coffee Background:
The city of Antigua is in many ways a modern coffee Eden. It's iconic, laid back, gorgeously ornate, and for a city of its size it is absolutely teeming with historic coffee infrastructure. It also was the center of Guatemala's specialty universe for many years. Prior to other departments in Guatemala having their own name recognition, coffees from all over the country were regularly transited to Antigua mills and exported as "Antigua" coffee, simply because its reputation was so strong. (Some departments, like Quiché, continue to have strong cherry pipelines to Antigua and struggle for their own name recognition in the market.)  
The Antigua valley itself is a gifted area for coffee: it's accessible and flat, highly volcanic, and older farms remain planted with majority bourbon-based genetics under very precisely managed shade canopy. The best coffees of the valley are decadent with butterscotch or marzipan-like sweetness, with brightness ranging from piquant lemonade to dessert wine or tangy dried fruit.  
Guatemala's best centralized wet mills and boutique exporters are based in and around Antigua. There are hundreds of farms in the greater area, from the city's legacy estates to patchwork smallholder communities climbing most of the way up Volcán de Agua (which is not flat!), one of three looming stratovolcanoes that seem to be visible from every street corner in town and play a large part in Antigua's famous soil composition. Such a variety of producers begets coffees with endless combinations of microclimates, elevations and varieties. There is a lot to work with here, and a lot of talent. 
"LPZ" and the Bella Vista mill 
Luis Pedro Zelaya (LPZ) is a fourth-generation producer and miller who for the past 20 years has established one of the best quality reputations in the country. Originally an employee of Bella Vista, he now runs the entire combination wet and dry mill in Antigua. Bella Vista services the coffee produced from LPZ's own family estates and numerous other legacy farms which he manages via a unique profit-sharing agreement with the owners. Many of these farms are among the oldest in the country.  Bella Vista also processes coffee from hundreds of smallholders across the greater Antigua area, most notably along the slopes of Volcán de Agua, whose blend is sold as "Hunapú", after the local indigenous title of the volcano. As a result of relentless perfectionism from harvest management to dry-milling and customer service, the brands designed and produced by LPZ and his quality team, particularly Bella Carmona and Hunapú, are some of the best-recognized Central American coffees in the specialty world. 
Processing Detail & Quality Control 
Cherry is delivered daily at Bella Vista from all over the valley. Processing is separated into numerous channels that represent Bella Carmona farms, Hunapú farms, and microlots such as single estates, single smallholders, or growers from elsewhere in Guatemala that Bella Vista represents. Once inspected and weighed, cherry is depulped and fermented overnight in one of the mill's many tanks, washed clean the next day, and patio-dried.  
Each individual batch of cherry is tracked electronically using a software created by Bella Vista, and drying or finished parchment is tagged with a QR code that allows the team to scan and review the exact blend in each batch, by contributing farm or farmer, variety, and location. This traceability follows each lot to the cupping table, where the Bella Vista team approves individual day lots for blending and shipment. 
Share
View full details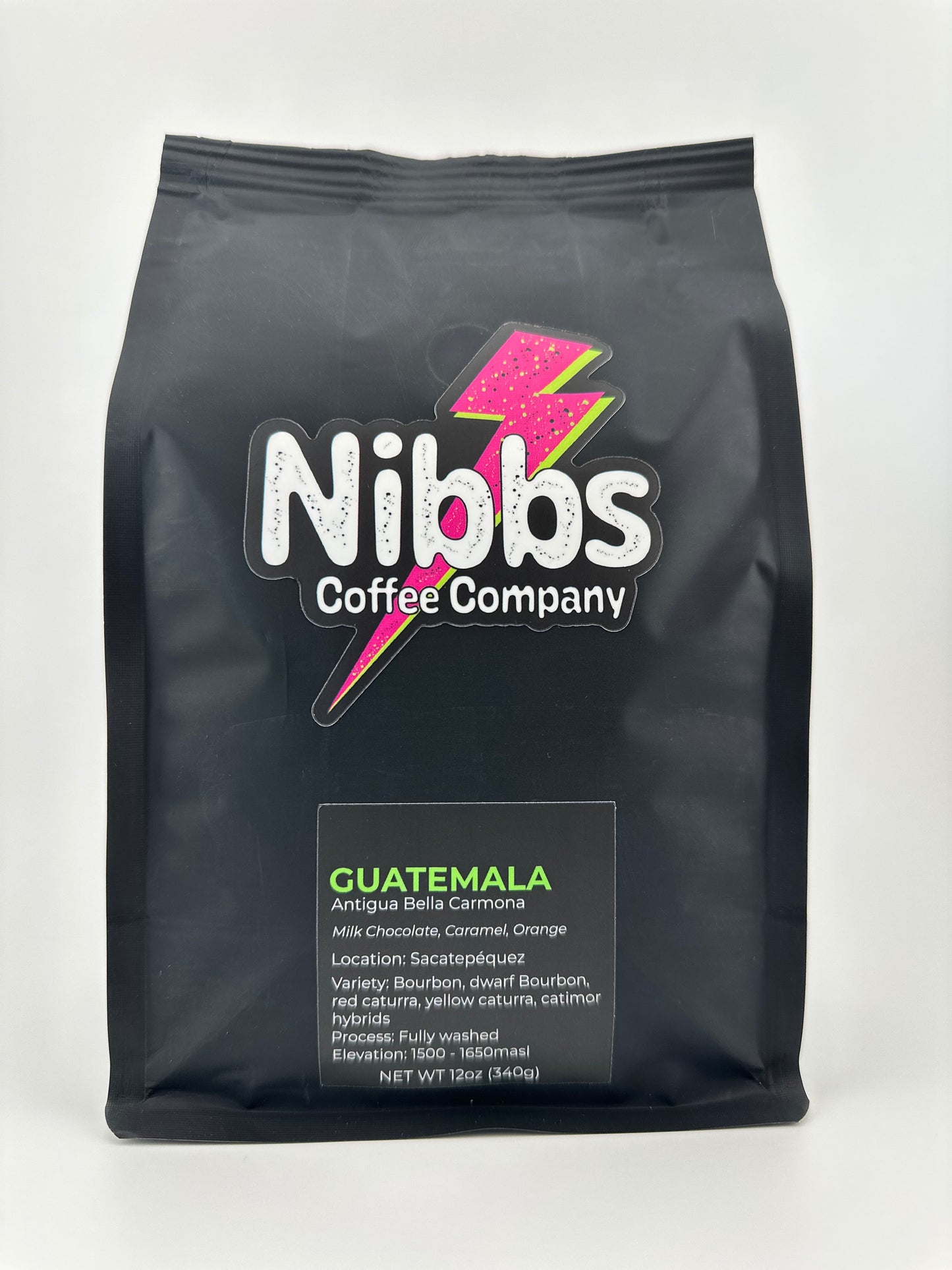 Answer your customers' common questions
List a frequently asked question

Then provide an answer that will help your customer make an informed purchase.
List another frequently asked question
List another frequently asked question